It's the third week of the Film4 Studio Ghibli season.
You can see the full Film4 line up here. This week the line up is:
Sunday 12th August – 1pm My Neighbour Totoro
Monday 13th – 2.55pm Ponyo; 1.35am From Up On Poppy Hill
Tuesday 14th – 1.05pm Porco Rosso
Wednesday 15th – 1.25am Castle In The Sky
Thursday 16th – 11am When Marnie Was There
Friday 17th – 2.55pm My Neighbour Totoro
My Neighbour Totoro – 12th Aug – 1pm – English Dubbed/
17th Aug – 2.55pm – English Dubbed
I've already reviewed My Neighbour Totoro as part of My favourite movies reviews, but that was a while ago, so I'll write so more about it.
Without much of a story to talk about, basically, a father and his two daughters move to a house in the country nearer to their sick mother who is in hospital. It's the two girls journey of discovery that is the real story, they interact with soot sprites, the Totoros of the title and the greatest transport ever on film, the Catbus. What is different from Studio Ghibli features and other movies is that a lot of Studio Ghibli doesn't have the usual set up of enemies, threat and conflict, instead, discovery and exploration are the order of the day. It's hard to encapsulate what makes this movie so good, as I said, there is no real storyline, it's more of what the children find on their exploration of the house, and the surrounding lands. The forest they find themselves in is not a place of dark dread, it's just a forest which happens to home some Totoros. Everything is about the situation the girls find themselves in, they tell their father about the creatures they are seeing and he calming accepts what they are telling him, no telling the girls off, or telling them to stay away, everything is possible in this world. This is a world where you want to live, the girls can roam and wander wherever they want, there is no implied or actual danger, the creatures they meet are all friendly, and even protective of the girls as they wait one night to get a bus home, and have fun with umbrellas. The movie wanders along keeping you entertained by sheer virtue of the characters and the journey of discovery they find themselves on, the pure pleasure they have just finding new things and having this adventure.
When this was released in 1988 it was on a double bill with Isao Takahata's Grave of the Fireflies, to see these two back to back must have been a moving and incredible experience. When released in an English Dub, Miyazaki had demanded that no part be edited out, and the translation kept as close to the original as possible, this came from his disappointment with Nausicaa and how the English dub was handled originally (it was originally released as Warriors of the Wind and was heavily edited, once released it was restored to an unedited version).
This also was the movie that set both Hayao Miyazaki and Studio Ghibli on the road to incredible success, in fact so much that a Totoro is included in the Studio's logo, and all across the world Totoro's pop up all over the place, even welcoming you to the Ghibli Museum in Tokyo.
The Art of My Neighbour Totoro
From Up On Poppy Hill – 13th Aug – 1.35am – Japanese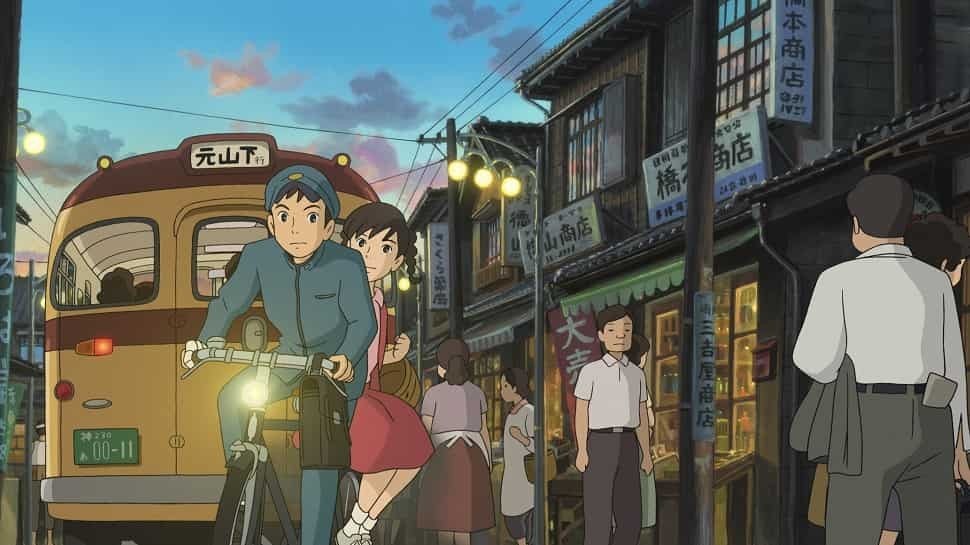 Goro Miyazaki had somewhat of a disappointment with his first movie, Tales of Earthsea (reviewed here) was not the movie it could have been, so in his second movie for Studio Ghibli he teamed up with his legendary father to make From Up On Poppy Hill.
Set in 1960's Yokohama, still suffering from WW2 but looking forward to the 1964 Olympics, two students Umi and Shun get caught up with each other while trying to stop the destruction of a mansion known as the "Latin Quarter" that students use the building for a number of reasons and is something they cherish. The story is very much a low key drama, no fantastic creatures, no fantasy, no outlandish situations, it's set in a country coming to terms with it's place in the war but trying to look forward. Goro Miyazaki has fared a lot better with this, with the screenplay written by his father you know his work was guided by the master's hand and eye for detail.
The animation in this movie, not being outstanding fit's the pacing of the drama perfectly, it does everything it needs to without being too much, not over the top. The scenes are set very well, and focuses on the characters emotions and their connection to each other, again, with this, it can seem quite slow if you are not egaged with the characters. It's definetly a slice of life movie, set in a time that is now gone, but with the magic touch that makes Studio Ghibli just know how to make their movies stand out. It's not Spirited Away, It's not My Neighbour Totoro and it's not Tales From Earthsea, it's life, it's drama and it's still beautiful.
Porco Rosso – 14th Aug – 1.05pm – English Dubbed
Hayao Miyazaki directed and screenwrote this movie about a World War 1 ex-fighter pilot that has retired from Italian military life ("I'd rather be a pig than a fascist") and now hunts air pirates for a living, he's a jaded wormanizer that likes a drink and happens to be half-pig. After being shot down by an American hotshot that joins with the Pirates that want him dead, Porco joins up with the mechanic daughter of an old friend to repair his destroyed plane, the American pilot that thought he was dead sets up a wager via another dogfight. The journey Porco finds himself on is very much his redemption and reconnection back to the world.
This is the perfect showcase of Hayao Miyazaki's love of aeroplanes and flying machines of all sorts, he understand them so much and it shows in the animation, everything feels like it has weight and belongs where it is. His love of the machines comes through so much in the designs of the planes and airships, everything looks beautifully sleek and at the same time, actual aircraft. There is a lot of action in this movie, friendships formed and love. Again Miyazaki drops a storng female character right into the mix with the mechanic Flo, and with her we see Porco finding his way in the world again.
Castle In The Sky – 15th Aug – 1.25am – Japanese
The very first Studio Ghibli movie ever and wow what a start, off the success of Nausicaa, Hayao Miyazaki screen wrote and directed another movie in a fantasy setting, a post-steampunk era in what can be seen as similar to Nausicaa but with no apocalyptic war that has occurred. This is can be seen as the blueprint for Miyazaki, a fantasy land, airships, giant robots, young children as the main characters. It has many threads that Miyazaki combines perfectly and expertly, his ability to combine the main characters innocence and childlike wonder with the extremely creative action scenes. The titled Castle (Laputa) is a stunning piece of design, a marvel combining beautiful nature with incredible technology, that's both highly creative and terrifying in design.
The movie itself is a grand adventure in some ways similar to adventure series like The Mysterious Cities of Gold, there is quite a lot of violence for a Ghibli movie but it's never gratuitous, it has its grand villain (voiced by Mark Hamil in the English Disney dub!), sky pirates, some great air battles and huge action set pieces. It's incredibly fun, the time goes really quick, which I always think is the sign of a great movie, it's pacing superb, Miyazaki, knowing when to blow things up and when to concentrate on the characters and focus on their story. The visuals even though it is the first Ghibli movie and originally released in 1986 are stunning, all hand-drawn as Miyazaki had not attempted to dabble in computer-generated images yet, each frame is beautifully detailed and with the Blu-ray, the colours and scenes jump out at you. It really did set a marker for Studio Ghibli as Miyazaki was released from worrying about the production issues of the movie, and could concentrate on the movie itself and even though they went from strength to strength, this feature is still one of their best, everything that encapsulates Ghibli is seen here.
When Marnie Was There – 16th Aug – 11am – English Dubbed
Straight after the first Studio Ghibli movie, we are treated to the latest release from 2014, and for a short time was thought to be the last movie that the Studio would release after Hayao Miyazaki had announced his retirement. But in fact, the Studio only paused its output to decide on its direction, and early 2017 Hayo Miyazaki announced that he would return to Direct a new movie to come out before the 2020 Olympics.
One of the things that Ghibli does so much better than others is its sense of being and atmosphere, the scenes you watch feel real, the people have weight, the detail beyond what you get in animated features. The little details are there, but amplified, like remembering back to a childhood summer, the grass is greener, the sounds of nature are welcomingly real, it's this attention to detail and the art direction that brings their movies alive. When Marnie Was There excels at this, looking at it technically, it's incredible, the animation shines as most Ghibli features do. Hiromasa Yonebayashi directs with an eye for the story that shows he may well have been the successor that would take over from Miyazaki, this was only his second feature for Ghibli, but has been an animator for many features and so has a lot more to learn as a director, unfortunately, he left the Studio after making this movie and with Yoshiaki Nishimura also previously of Ghibli created Studio Ponoc.
Based on the novel of the same name by Joan Robinson, the scene is moved to Japan, and centres around a young girl called Anna who is sent to the seaside to help her asthma, although Anna has some more issues and the asthma reason seems to be an "excuse" to put her into a new environment to try to get her to become less socially awkward. In her new surroundings she stumbles across a mansion, glimpsing a young girl in the window. This young girl is Marnie and seems to be the complete opposite of Anna, confident, always smiling and likes to take risks. They strike up a friendship both being exactly what the other girls needs. To say much more, if you haven't read the book would take too much away from the viewing experience.
This is very much a Ghibli feature, it concentrates on 2 female protagonists, it excels in its surroundings, the detail in the images and the emotion of the storytelling, it does seem to drag at times, but not that it harms the movie, it's Ghibli sure, just not from the hand of the master.